The 2015 Japanese Grand Prix should have been a celebration of McLaren's new partnership with Honda, but instead it turned into one of its darkest hours.
Fernando Alonso's frustration with a chronic lack of pace and reliability from his engine spilled out when he compared the power unit unfavourably with those used in the GP2 support races. while talking over the team radio with his race engineer.
"I'm caught on the straight like a GP2. This is embarrassing, very embarrassing. I do my best," he had said. When he was subsequently passed on track by Max Verstappen, he complained again: "GP2 engine, GP2! Aaaaargh"
What Alonso didn't realise was that the remarks would be picked up and rebroadcast by the world TV feed and become a global meme – much to his embarrassment, and to the fury of Honda.
"I was talking to my engineer in a private conversation. It was not meant to be public," he told F1 Racing magazine last month, some four and a half years after the original incident.
"It came from a place of frustration," he said. "I say things that I think and that I believe, because I believe those things are the truth.
"The engine was very bad," he insisted. "The first year in [testing at] Jerez, in four days we did seven laps … In 2015 I was always fighting to get out of Q1 and had 575 places of penalties.
"Maybe I shouldn't have said it, but I didn't say it in the TV pen or the press conference," he pointed out. "If a top driver today went through the performance that I went through, I could not imagine what they would say!"
Honda eventually split from McLaren at the end of 2017 and instead partnered with the Toro Rosso squad. In 2019 the Japanese manufacturer added Red Bull to its rosta and picked up three wins with Max Verstappen, as well as two surprise podiums for Daniil Kvyat and Pierre Gasly in the junior team.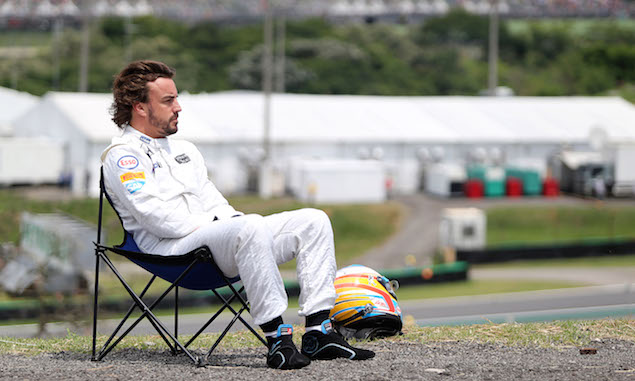 It's a far cry from these desperate days in 2015. Alonso admitted that even now he's reminded of his infamous outburst everytime that the now in-form Honda engine chalks up another success.
"Now Honda wins a race and I receive a lot of messages that read 'GP2 engine wins now, it should be a sad day for you'," he sighed.
"I'm very happy [for Honda] but the engine I had in the car was not the same as the one [Verstappen had in 2019 when he won] in Brazil," he explained.
"Sometimes I can be wrong. But I don't see things that I do that others are not doing. I don't read extra things from what others are saying – but I do see mountains and mountains of the things I say."
Alonso himself departed F1 at the end of 2018. He's now a two-time Le Mans 24 Hours winner and has just completed his maiden run in the Dakar Rally. In May he'll take another shot at the Indianapolis 500 in his pursuit of the Triple Crown of Motorsport.
Now 38, it had appeared increasingly unlikely that the two-time world champion would ever return to Grand Prix racing after recently cutting his last links with McLaren. But Alonso himself certainly isn't saying never again.
"I'm not done with F1," he stated emphatically. "2021 is a good opportunity and I feel fresh and ready now. It's something I will explore.
"I have so much self-confidence that I know I can take any car and if everything goes well, I should win. Driving is the only thing in life that I know I do well at."
"F1 is unfinished business, because people think that we deserved more than we achieved – especially in the last few years. In my museum there are cabinets with a lot of trophies, but nothing recent and that seems a bit weird.
"When you do events like Dakar, you meet different people with different philosophies," he added. "So now I will be ready to come back [to F1] stronger and, if in the right package, will win."
Gallery: The beautiful wives and girlfriends of F1 drivers
Keep up to date with all the F1 news via Facebook and Twitter
Sign up to get all the latest news and follow us on Twitter, Facebook, and Instagram.
Subscribe to the F1 and Coffee Podcast on Spotify and iTunes, and our YouTube Channel