Special circumstances provided Mercedes with an opportunity to use more tyres than usual during Friday's practice, a change that led to more running and therefore to a benefit for the fans according to Lewis Hamilton.
The cancellation of Saturday's track activity allowed teams to tap their allocation of tyres for that day and add an extra set to their normal quota of two sets per Friday session.
"It's been more interesting than a normal Friday as we have had to adjust from the normal programme with the poor weather expected tomorrow," explained Mercedes chief race engineer Andrew Shovlin.
"We'd already decided to bring a Saturday tyre set into Friday morning, even before we heard that all Saturday running was cancelled.
"That allowed us to do a bit more setup work than normal and it gave the drivers a bit more experience at low fuel."
But Hamilton says the additional running associated with adding a third set of tyres ensured that there was a constant flow of cars on track throughout each session, boosting the show for the fans.
"Maybe they need to bring us more tyres in a race weekend and we can do three runs," said the Briton.
"If we had three tyres in practice one and practice two, and three in practice three, it would just be better for running, better for the fans because we run from the beginning of the session rather than wait 20 minutes and then go out."
Hamilton's teammate Valtteri Bottas topped both practice sessions, and the Finn was delighted by his W10's performance around Suzuka.
"It's been a very positive day for us," said Friday's pace-setter. "It's always so much fun to drive these cars on this track.
"I'm very happy with the car in general, it felt good from the beginning.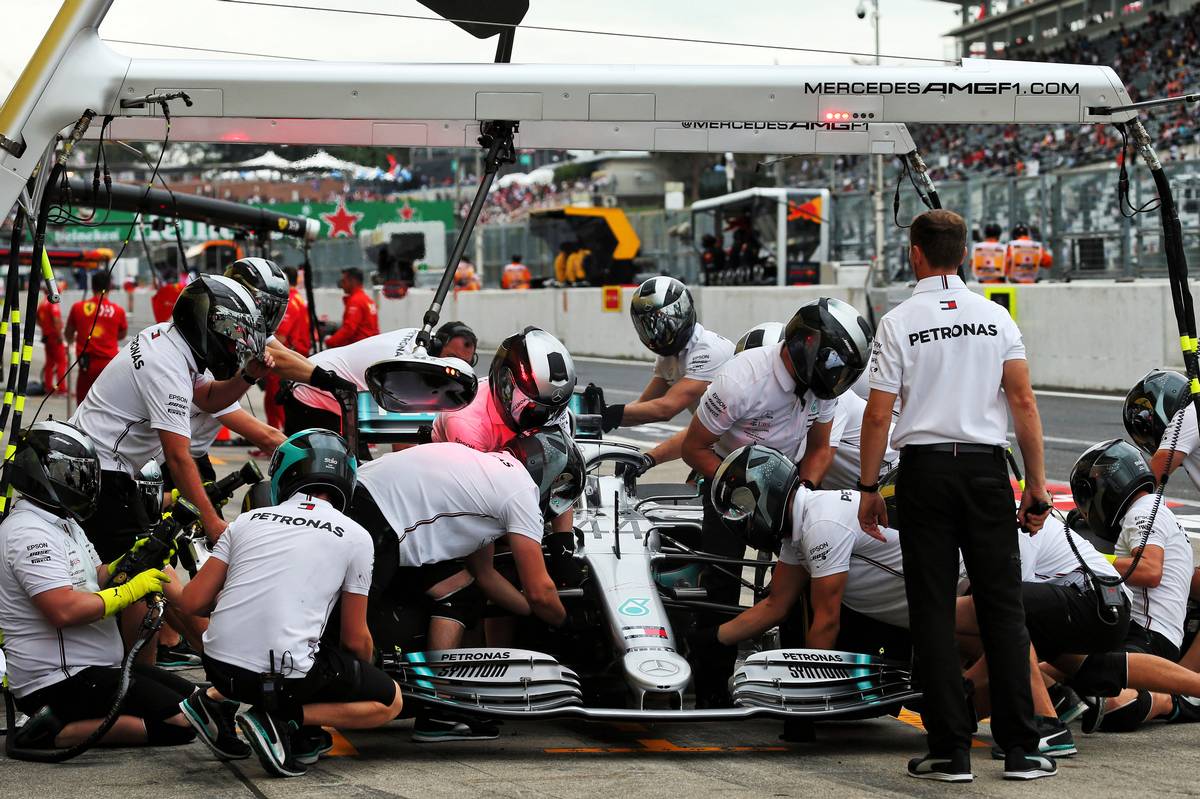 "I think we can still make some small tweaks to improve the balance of the car, but overall it felt good both on the short and the long runs.
"We expect Sunday to be close in both qualifying and the race, so we need to keep pushing.
"We got an unexpected day off tomorrow but I'm sure the team will keep me busy; we'll be digging into the data and make the most out of it."
Teams likely won't be allowed at the circuit tomorrow following Suzuka's lockdown, but it'll be anything but a day off for Mercedes' engineers.
"We're going to be working our normal schedule tonight so that the cars are ready for a Sunday morning qualifying when we leave here around midnight," said Shovlin.
"We may not be allowed into the circuit tomorrow so that will mean having some meetings at the hotel to prepare for a very busy Sunday.
"It's always quite difficult to deal with both qualifying and race in a day but the challenge is good fun and we're looking forward to it."
Gallery: The beautiful wives and girlfriends of F1 drivers
Keep up to date with all the F1 news via Facebook and Twitter
Sign up to get all the latest news and follow us on Twitter, Facebook, and Instagram.
Subscribe to the F1 and Coffee Podcast on Spotify and iTunes