George Russell says that he is confident that Mercedes still believes in him and in his potential as a future Formula 1 star – even if they don't say it very often.
The Mercedes junior completed last year his maiden season in F1 with Williams. Although he was the only driver on the grid not to manage to secure a championship point in 2019, he doesn't believe that it's done any harm to his standing with the Silver Arrows, quite the contrary.
And the news of Max Verstappen extending his stay at Red Bull until 2023 eliminates a prime candidate for a potential seat at the German manufacturer's team  in 2021, increasing Russell's chances of stepping up to the Silver Arrows squad.
However, the 21-year-old admitted that the Mercedes management could be hard to read at times, and was rarely fulsome with any praise despite his impeccable performances.
"[Mercedes] won't tell me when I'm doing a good job," Russell told Autosport magazine. "They only tell me when I'm not doing a good job!
"I'm in contact with them every week and I always see them at the races," he said. "They're definitely pleased with what I'm doing at the moment."
"They believe in me," he insisted. "They believe I've got the potential. And I also think about it in a similar way."
Russell said that Mercedes' approach suited him perfectly and that he understood the team's mindset when it came to developing drivers.
"I'm being paid to deliver to a very high level," he said. "When I do that, it's what I'm being paid to do.
"If a postman delivers his post, he doesn't get a pat on the back because he delivered his post – it's part of the job," he explained. "My job, I should only be getting a bollocking if I don't perform to a level.
"When I raced GP3 and I won [the title] I got a phone call to say 'Well done'," he recalled. "But straightaway we were talking about doing Formula 2, and doing FP1 sessions with Force India.
"When I went to Formula 2, it was clear that the goal was to win, and 'If you win you win an F1 seat'. I won the championship [and so it was] 'Well done, now it's F1'," he continued. "That's the mentality."
Russell explained that the high expectations ran to every part of the Mercedes operation, from top level management to the shop floor and support services at Brackley.
"The chefs in catering, they're employed to deliver great food. The aerodynamicist is employed to deliver a great aero car. Engineers and strategists are employed to perform a great strategy and set-up," he said. "It's just the world we live in."
"But they do appreciate it when you do something special," Russell added.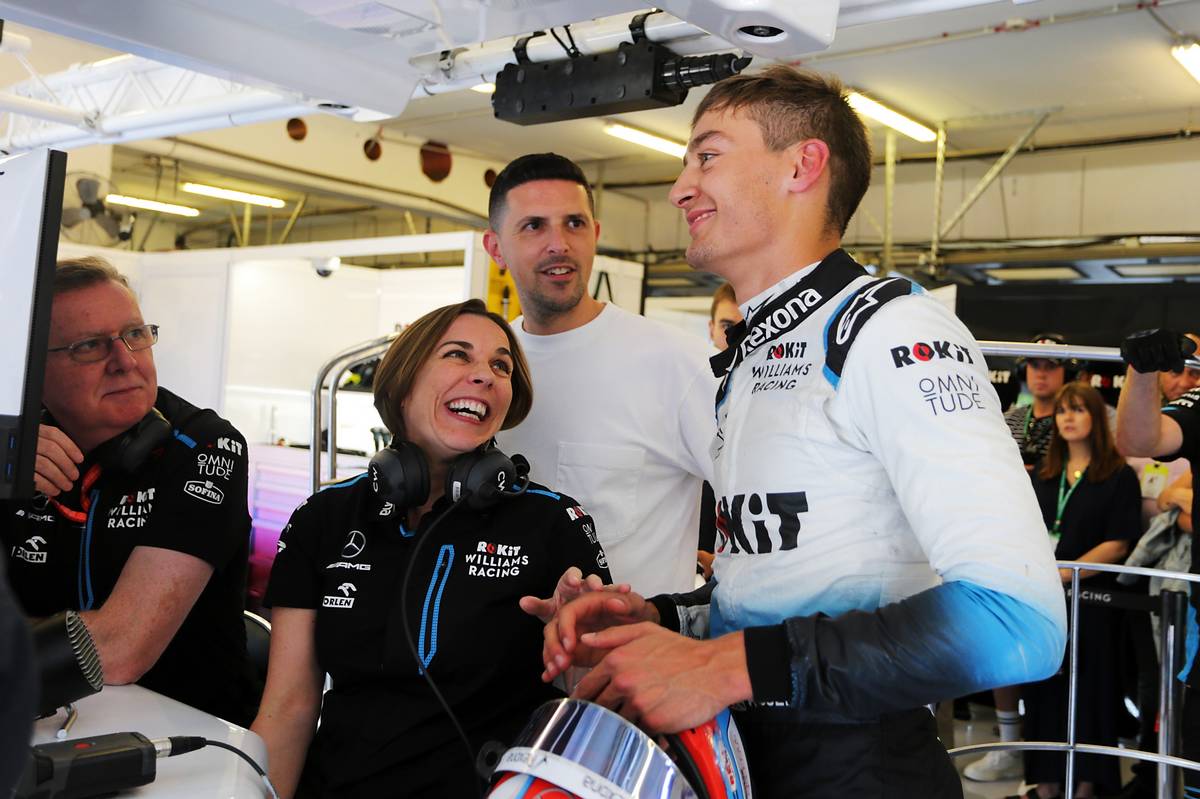 Meanwhile Russell will be focussing on his 'day job' at Williams, hoping to avoid some of the problems that kept the team at the back of the grid for much of 2019.
"We had to look at the basic structure of the car," Russell told Germany's Auto Motor und Sport publication. "There were aspects that were fundamentally wrong.
"Something was wrong with the aero, the downforce was not constant," he admitted. "We had to start from scratch when it comes to the downforce, but since then we've been on a good path.
"We didn't see any progress in the wind tunnel for a long time but the trend is different now," he added. "We will definitely be better in 2020.
"I expect that we will fight the others more often, but realistically it will be another difficult season for us."
Russell is hoping Williams can follow the example set by McLaren, which recovered from a disastrous season in 2017 to finish 'best of the rest' behind the big three teams just two years later in 2019.
"If we can do a similar step and Haas, Racing Point and Toro Rosso don't make much progress then we will be in a very strong position. But if they all find a second or two then we will stay where we are."
Gallery: The beautiful wives and girlfriends of F1 drivers
Keep up to date with all the F1 news via Facebook and Twitter
Sign up to get all the latest news and follow us on Twitter, Facebook, and Instagram.
Subscribe to the F1 and Coffee Podcast on Spotify and iTunes, and our YouTube Channel