Max Verstappen has kept his Austrian Grand Prix victory after stewards decided no further action was necessary over his contact with Ferrari Formula 1 driver Charles Leclerc.
Red Bull driver Verstappen and Ferrari's Leclerc engaged in a wheel-to-wheel battle for victory in the closing laps of the race.
They bumped wheels at the Turn 3 right-hander at the top of the hill with three laps remaining, after Verstappen dived inside Leclerc and gave his rival no room on the outside.
Race control announced shortly after the race had finished that the incident would be investigated, but a decision released at 7.46pm local time said the stewards found neither driver "wholly or predominantly to blame" for the contact.
The stewards' explanation read: "Car #33 [Verstappen] sought to overtake car #16 [Leclerc] at Turn 3 on lap 69 by out-braking car #16.
"When doing so, car #33 was alongside car #16 on the entry of the corner and was in full control of the car while attempting the overtaking move on the inside of car #16.
"However, both car #33 and car #16 proceeded to negotiate the corner alongside each other but there was clearly insufficient space for both cars to do so.
"Shortly after the late apex, while exiting the corner, there was contact between the two cars. In the totality of the circumstances, we did not consider that either driver was wholly or predominantly to blame for the incident.
"We consider that this is a racing incident."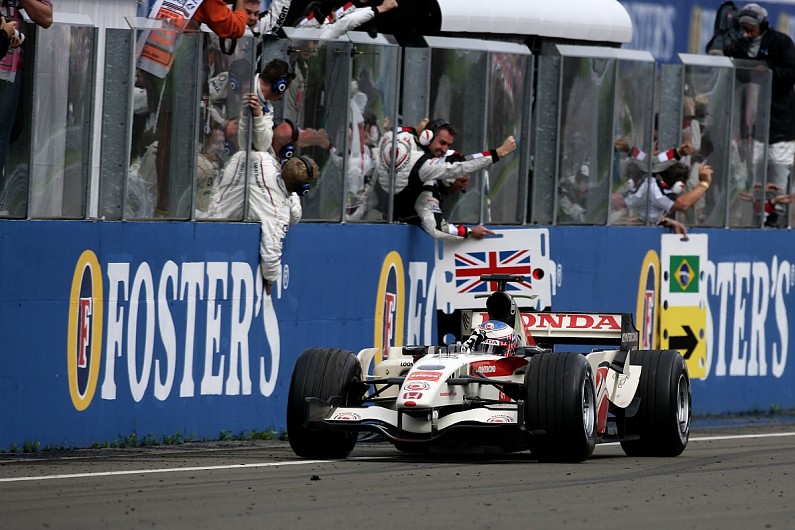 The decision means Honda keeps its first victory in the V6 turbo-hybrid era and first since 2006, when Jenson Button won the Hungarian Grand Prix (pictured above).
Leclerc argued after the race that Verstappen would probably have passed him anyway, given the Ferrari was struggling with ailing tyres, and that the contact was "just not the way you overtake".
Before meeting with the stewards Verstappen called the collision "hard racing" and questioned "the point of being in Formula 1" if that pass was considered illegal.
Red Bull motorsport advisor Helmut Marko said: "It's not an incident, it's racing.
"We don't even need to discuss it, if that's what you want, you have to go to a road safety meeting.
"I'm not discussing anything like that."